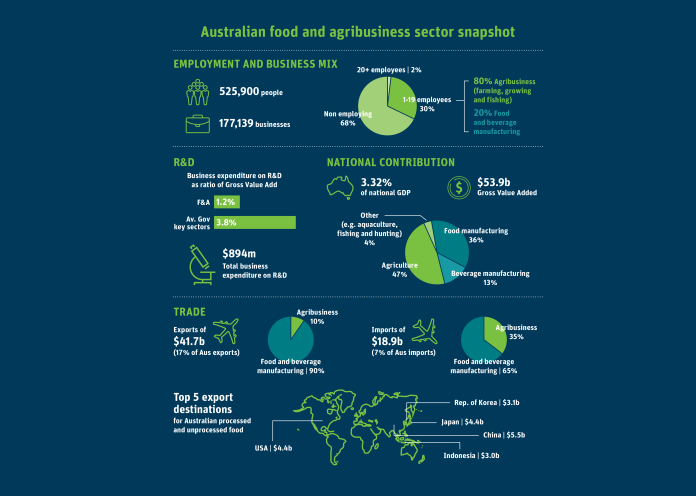 Assistant Minister for Industry, Innovation and Science, Craig Laundy, has announced two significant initiatives aimed at growing Australia's food and agribusiness sector.
Speaking at the Australian Institute of Food Science and Technology's (AIFST) 50th Anniversary Convention, Mr Laundy presented CSIRO's Food and Agribusiness Roadmap and the Food and Agribusiness Growth Centre's (FIAL) Sector Competitiveness Plan.
Developed with widespread industry consultation and analysis, CSIRO's Roadmap outlines a course for food products, technology and innovation to secure future success in the sector.
FIAL's plan, which is the latest iteration of its Sector Competitiveness Plan, charts a ten-year vision and strategy for the industry; revised annually to reflect market forces shaping the sector.
"We are excited to present the latest version of our Sector Competitiveness Plan which focuses on a vision that the industry, by 2025, is working together to grow the share of Australian food in the global marketplace," said FIAL's Chair, Peter Schutz.
Commenting on these initiatives during his address at "The Future of Food" convention, Mr Laundy highlighted the importance of innovation and entrepreneurship in driving new economic growth in the industry, citing the success of Australian businesses who unlocked value-adding growth opportunities.
"This convention is what innovation in the food industry is all about—bringing like-minded, entrepreneurial people together to explore the exciting frontiers of what can be achieved in one of Australia's most competitive sectors," he concluded.
CSIRO's Food and Agribusiness Roadmap can be accessed at: https://www.csiro.au/en/Do-business/Futures/Reports/Food-and-Agribusiness-Roadmap.
FIAL's Sector Competitiveness Plan is available at https://fial.com.au/strategy-sector.