A 3D copy machine which features a plug-and-play interface and comes with a touchscreen control panel which allows users to scan, print or 3D fax anything with just a few quick taps, has successfully raised its funding goal on Kickstarter.
The 3D printer called Zeus, which was developed by AIO Robotics, was able to pledge $111,111 of its $100,000 goal. Zeus aims to revolutionize the 3D printing industry by giving users a complete 3D printing experience through a multi-functional machine, at an affordable price.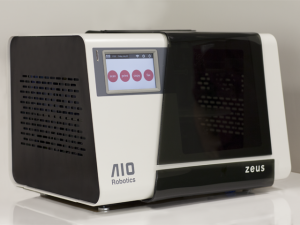 "Our mission is to make 3D copy technology as easy as 2D copy technology," said Jens Windau, co-founder of AIO robotics.
"We want to make 3D copy technology robotics smart," added Kai Chang, AIO Robotics' other co-founder.
Wei-Min Shen, Director of Polymorphic Robotics Laboratory, compliments the young investors.
"It is very useful and it will allow you to print up things quickly, economically and you can verify ideas."
Their goal is to create a machine that users can take out of the box, click a couple of buttons and start printing.
"In order to create that we had to look at every touch point that the user will encounter when they interact with ZEUS. That means creating a user-friendly interface that's absolutely the easiest to use in its class and also creating a hardware experience to complement that," says John Sundermeyer, Director at Pull.
ZEUS is intended for general use, even for people who do not know how to work with a 3D modeling software, but it can be a real life-saver for people working in design.
"The 3D fax function would really facilitate communication with buyers. It would totally change the industry!" says Stephanie Hoffer, Director of Design Engineering at Maxstudio.
Zeus has all functions, features, and assets needed to make a beautiful product that has been matched with the structure, intelligence, performance, and user experience the 3D printing community has been looking for.
The  frame is made from an aluminum structure, powder-coated in a moonstone white, with black anodized side panels. The 7-inch touchscreen gives the machine a welcoming "consumer ready" look.
All linear components are made by CNC-machined aluminum (xyz-carrier, turntable) and the external metal enclosure ensures an extremely rigid body.
Zeus is cost-saving by using one platform for multiple purposes. There are no cable connections from/to a computer and scanner and printer are adjusted and calibrated.
You can print any 3D model from a CAD-program, 3D scanner, or an online marketplace.
Seamless Sharing is the reason they implemented 3D Faxing which allows users to send objects through an online secure connection from one ZEUS printer to another. Users have the option to confirm the file before the machine starts printing.
The integrated auto-bed leveling system is just one of the many pluses. The intelligent software program detects uneven surfaces and auto-compensates accordingly.
The onboard-computer is the brains behind the operation. It is supported by an optional cloud service that speeds up the process for 3D scanned data.
LITEON Technology Corporation, one of the largest global electronics manufacturers, is said to build the ZEUS.  LITEON has manufactured over 10 million 2D printers and scanners over the last decade.